Emolice's 2D and 3D CAD (Computer Aided Design) capabilities allow us to offer design services for custom enclosures, fixtures, frameworks and metalwork.
Our services also include the fabrication and assembly of metalwork.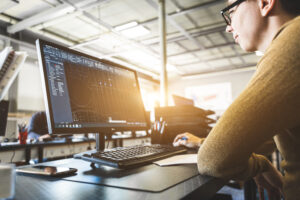 What is 2D and 3D CAD?
CAD (or computer aided design) is used in the manufacturing industry for designing products and developing software. CAD is the use of computers to help in the creation, modification, analysis, or optimization of a design. This type of process also aides in optimising and creating a template to build other designs from.
The Emolice team are fully trained and certified in CAD software and mechanical assembly. This allows us to take on a range of different job sizes and ensure we have a fast turnaround for all our customers and various projects.
Looking for a quote for some metalwork? You can get in touch with our team here or give us a call on 01344 266530 | [email protected]
Emolice Contract Manufacturing Solutions (Emolice) specialises in providing a comprehensive range of contract manufacturing services for the electronics and manufacturing industry.
With ISO 9001 accreditation, Emolice can cater for the manufacture of a simple control panel built to design to full Cable Assembly Services, Box Builds, Mechanical Design & Assembly, PLC programming, complete Control Systems, PCB assembly, and more.