Our Control Panel Solutions team specialise in the design, manufacture and overall implementation of control panels and control panel systems. With on-hand consultants to help you with your control panel, cabling, wiring or control system requirements, Emolice Contract Manufacturing Solutions can cater to your control panel sub-manufacturing needs.
All we need to start is a basic brief or drawing/plan, and we can help further develop, design and construct your idea into a finalised and scalable product/ solution or system. As we continue to add a variety of industries and applications to our portfolio, our team of experienced software engineers and specialist manufacturers are constantly developing new and innovative ways to meet our clients' needs.
Our passion is electronic contract manufacturing and as a top UK manufacturer, we thrive on our ability to deliver quality and excellent service, whilst also being able to offer complete control systems. Emolice's team of professional software engineers can design and program software for a variety of automation instruments run by PLC's, starting with as little as a simple design brief. The result is a fully documented program that not only meets the needs of your application, but which is fully scalable to meet future demands.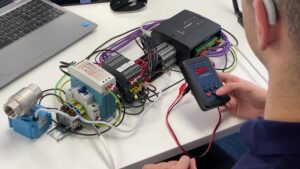 Offering a wide range of electronic manufacturing services, we have extensive experience in the design, build and programming of control panels, including: Remote IO Panels, Power Distribution Panels, Machine Control Solutions, and complete Industrial Control Systems.
Looking for an RFQ for a control panel query? Or maybe help programming a PLC? Get in touch with the team on 01344 266530 | [email protected]